Former Trump supporter, Omarosa Manigault Newman, a controversial figure and a former Apprentice contestant who even worked in the White House for a brief period has denounced Donald Trump's actions as his claims that the election was stolen from him and that he will be using any means necessary to get a recount, have become more fantastical.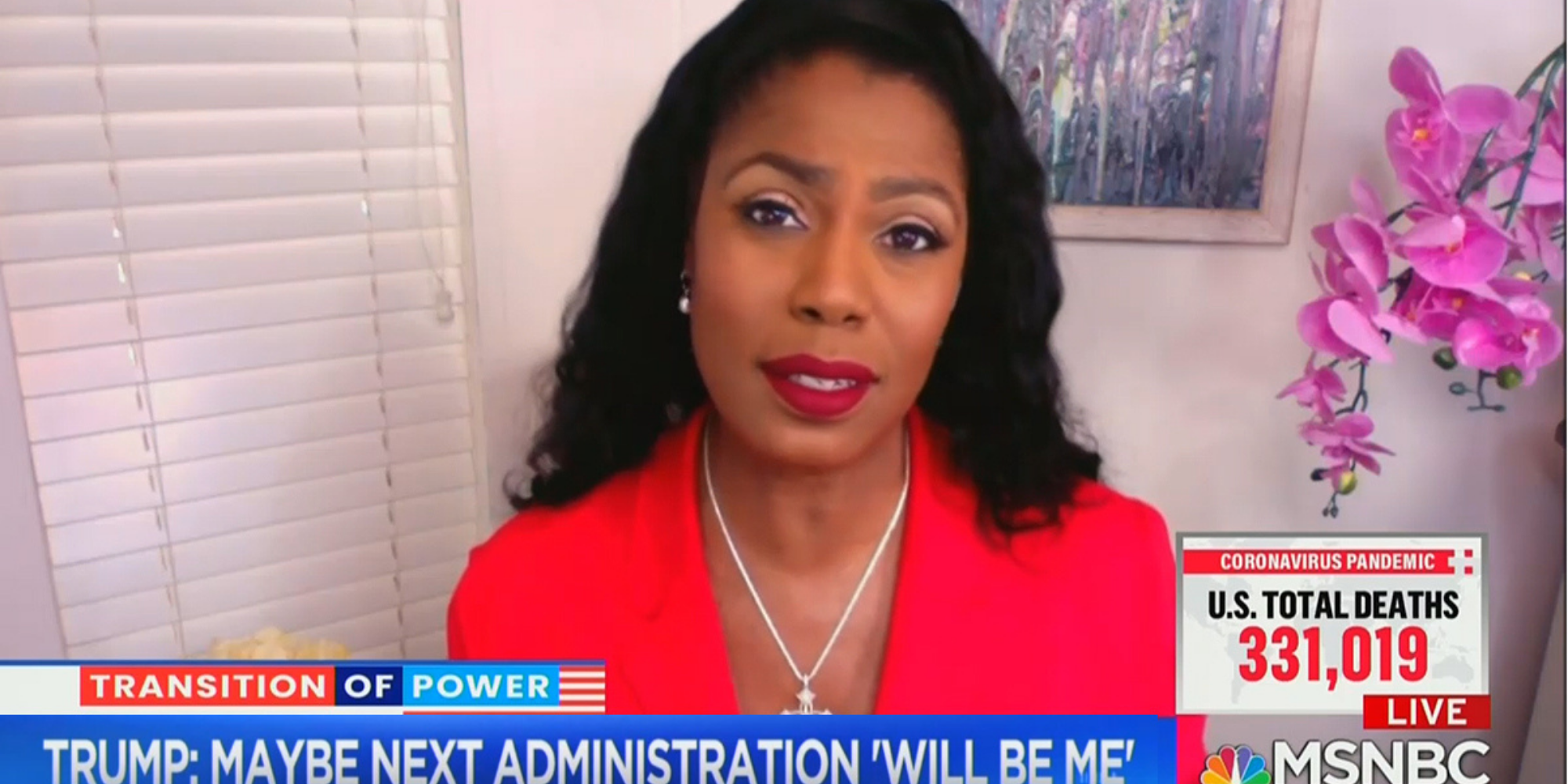 In an interview earlier this week, Omarosa said that she thinks president Trump is going through "a psychotic episode" over his loss of the election to Joe Biden.
She made these remarks during an interview with Alex Witt of MSNBC about Trump and about her plans for the next year – Omarosa said that Trump's ego can't accept that he won't be president from January onwards.
She said, "I think Donald Trump is going through a psychotic episode. I think that he has come to terms with his loss, but his arrogance, his ego will not allow him to accept that he is not going to be president come January."
Meanwhile a CNN report says President Donald Trump's dark mood has been worsening — and the country is suffering his wrath.
Furious at Senate Republican leaders for acknowledging he lost to President-elect Joe Biden, Trump has so far rejected the coronavirus stimulus package they negotiated with Democrats and his own administration, leaving jobless benefits to lapse for millions of Americans and embarrassing his onetime political allies.
The country, Congress and many of Trump's closest aides and advisers have remained in the dark as to what he intends to do.
He tweeted Sunday night, "Good news on Covid Relief Bill! Information to follow," and a private ballroom at Mar-a-Lago is set up for him to finally sign the relief package and government funding bill — should he decide to do so, according to a CNN source.
Staff at Mar-a-Lago had made preparations for Trump to sign it on Christmas Eve, but the plan was scrapped at the last minute, two sources with knowledge of the circumstances told CNN, denying Americans a holiday gift of relief and setting up the threat of another government shutdown this week.
Convinced social media companies helped rig the election against him, Trump did take action on an unrelated defense bill last week, vetoing it because it didn't repeal those companies' liability protections.
Insistent his own government is working against him by ignoring false claims of voter fraud, he's dangling the prospect of shutting it down as he enjoys a winter holiday in South Florida and the country records its deadliest month since the pandemic's start with more than 63,000 Americans having died from Covid-19 in December so far.
Eager to help discredit investigations into his own behavior and that of his allies, he's using his wide-reaching clemency powers to wipe away convictions brought by special counsel Robert Mueller, undermining a system of law and order in the process.
Long driven by grievance, Trump seems to be ensuring no grudge goes unpunished before he leaves office. He is using his remaining days as President to settle scores, even if those left to suffer have nothing to do with his baroque conspiracies or his wounded ego.
Because Trump refused to sign the Covid-19 relief bill — that his own aides helped write — by Saturday night, millions of Americans who were facing their last payment are left without certainty of if or when they'll receive more assistance. An estimated 12 million Americans who have been laid off are set to receive their final unemployment payment for the week ending this weekend, according to The Century Foundation.
The legislation that Trump refuses to sign would extend the number of weeks people can stay on two key pandemic unemployment programs and increase weekly benefits by $300 for all through mid-March.
Trump this weekend continued to demand direct payment checks be increased from $600 to $2,000 — a figure Democrats support but that came a day after the bill passed and Congress left town, leaving jobless Americans in limbo.
That Trump did not make his demands known ahead of time suggests both that he was paying little attention to how the legislation was proceeding and that lines of communication with Senate Republicans on Capitol Hill have degraded after they acknowledged Biden's win.
"It wasn't clear that the President really was paying attention because he had a lot of other things going on," Rep. Don Beyer, a Virginia Democrat, said on CNN's "Newsroom" Saturday.
Those other things have primarily focused on his unsuccessful attempts to overturn the election, which have gained little traction. Initially supportive of Trump's efforts to challenge the results in court, Senate Republican leaders have mostly moved on to congratulate Biden on his win, enraging Trump and sending him looking for ways to exact revenge.
His refusal thus far to sign the stimulus package has been viewed by at least some Republican officials as doing just that, jabbing Senate Majority Leader Mitch McConnell as stingy for not providing adequate checks to Americans, even though Trump's own negotiators initially proposed the $600 checks during talks.
On Saturday, Trump lashed out at McConnell, writing on Twitter that Senate Republicans "do NOTHING" to help bolster his baseless fraud allegations. He referred to the Senate majority leader simply as "Mitch" and did little to counteract the impression his fixation on the election is clouding any real attempt at governing.
In another tweet, he made a reference to large protests expected in Washington on January 6 surrounding formal ratification in Congress of Biden's electoral victory, an event Trump is convinced can be stopped with help from conservatives and his vice president.
Rep. Adam Kinzinger on Sunday deemed that idea "a scam." The Illinois Republican told CNN's Dana Bash on "State of the Union" that he expects when Congress meets to affirm Biden's Electoral College win that "it is going to disappoint the people that believe this election was stolen — that think this is an opportunity to change it."
Others in the President's party are also growing frustrated.
"That's what happens when you get too wrapped up in an election you already lost," said Rep. Denver Riggleman, a Virginia Republican not returning to Congress.